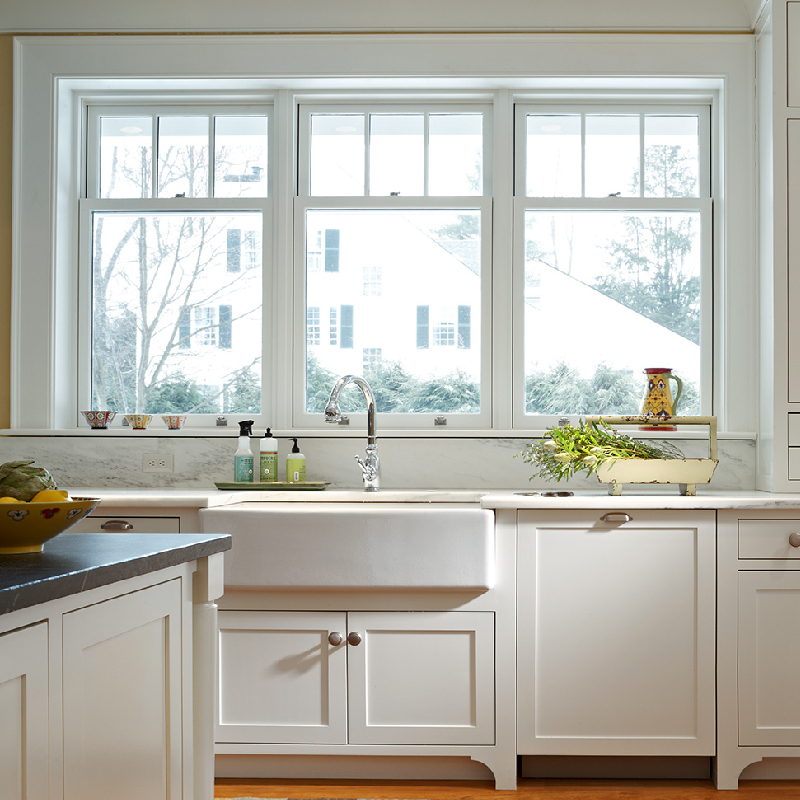 Expansive Windows For a Stunning Kitchen Remodel
Your kitchen is the heart of your home, and a well-executed remodel can elevate it to new levels of beauty and functionality. One key element that can truly transform the ambiance of your kitchen is the window style you choose. Even the slightest architectural change or addition to your windows can transform your kitchen space, making it feel bigger and seamlessly connecting your kitchen with surrounding spaces.  At WindowCraft, we take pride in offering an exceptional selection of window styles and materials, each designed to bring out the best in your kitchen space while being fully customizable to make your dream a reality.
Below WindowCraft highlights some of our favorite styles and materials that can take your kitchen remodel to new heights.
Dream Kitchen Remodel: Window Styles
Awaken Brilliance with Bay Windows:
Bay windows are a timeless classic that adds a touch of grandeur to any kitchen. With their iconic three-panel design, bay windows create an illusion of added space, inviting more natural light into your kitchen. These windows serve as a cozy nook for seating, perfect for enjoying a morning coffee while basking in the warmth of the sun's rays. Their expansive view allows you to connect with nature, making your kitchen a serene retreat.
Let Elegance in with Casement Windows:
Casement windows are a fantastic choice for modern kitchens seeking an elegant and minimalist look. With their unobstructed glass panes, these windows offer abundant natural light and excellent ventilation. They open outward, allowing for easy cleaning and maintenance. Casement windows complement contemporary kitchen designs and add a touch of sophistication to traditional styles.
Seamless Beauty with Sliding Windows:
Sliding windows are a practical and aesthetically pleasing choice for kitchens with limited space. These windows open horizontally, creating a seamless flow between your kitchen and the outdoor area, making it easy to pass dishes and refreshments to guests during gatherings. Their sleek, contemporary design complements various kitchen styles, making them a versatile and functional option.
Charm and Versatility of Double-Hung Windows:
Double-hung windows exude classic charm and work beautifully in both traditional and modern kitchen designs. With their two operable sashes, you can control the amount of ventilation, making them ideal for bringing fresh air into your kitchen while cooking. Their space-saving design and easy maintenance make them popular for homeowners and architects looking to create a timeless yet practical kitchen space.
Unmatched Style with Picture Windows:
Picture windows are the ultimate choice if you want to showcase breathtaking views or a stunning outdoor landscape. These fixed windows offer an unobstructed view and flood your kitchen with natural light, creating an open and spacious feel. Picture windows complement contemporary and transitional kitchen designs, adding an element of luxury and sophistication to the heart of your home.
How to Find the Perfect Window Material for Your Kitchen Remodel
The window material you choose can have just as big of an impact on a kitchen remodel as the window style. While there are many options to choose from, architects and homeowners must consider the benefits and drawbacks each window material offers. Let's dive into the world of replacement windows to find the perfect fit for your project.
Wood Replacement Windows
Wood replacement windows are renowned for their natural beauty and insulation properties. As a natural insulator, wood helps regulate your home's temperature and minimizes condensation when adequately insulated. Additionally, wood windows can be painted or stained to match your home's existing style. However, they do require periodic maintenance with painting and staining to prevent cracking and rotting. Despite being a premium product with a higher cost than vinyl, wood's timeless charm makes it a favorite among architects and homeowners alike.
Aluminum Clad Wood
An aluminum-clad wood window has an extruded or roll-formed aluminum skin applied to the wood exterior (extruded aluminum being far superior). There are many aluminum-clad exterior color options; most manufacturers will provide custom colors for a reasonable fee. The wood interior of aluminum-clad windows can be painted or stained in any color.
Aluminum Replacement Windows
For a cost-effective and durable option, consider aluminum replacement windows. They are relatively inexpensive, sitting just above vinyl windows in terms of cost. Their durability makes them an excellent choice for homes in warmer climates like Texas. Architects appreciate aluminum windows for their versatility and sleek appearance, while homeowners enjoy the affordability and low maintenance they offer.
Steel & Iron
Steel is another popular frame material for windows and doors and continues to evolve as a product with regards to appearance and efficiency. The structure of steel allows manufacturers to build thin frames and sizes not available in any other frame material. Steel frames offer dark colors and slim lines. Steel windows can be used as a feature/accent window or door, or they can be used throughout the entire house. Windowcraft is able to custom design and build your iron and steel windows, but we also supply Albertini and French Steel Co. windows.
Vinyl Replacement Windows
Vinyl replacement windows have gained popularity due to their cost-effectiveness and minimal maintenance requirements. They are more budget-friendly compared to wood, aluminum, steel, and iron options. Vinyl windows boast excellent insulation properties and are easy to install. Over the years, advancements in technology have improved vinyl windows, making them more durable and less prone to issues like peeling, cracking, and fading. While architects and homeowners acknowledge the cost benefits, some concerns about long-term strength and potential warping over time have been noted.
WindowCraft's range of distinctive window styles and customization options, a stunning kitchen remodel is within your reach. Contact WindowCraft today to explore our exceptional window styles and embark on a transformative kitchen remodeling journey. Elevate your kitchen with WindowCraft, where style, functionality, and beauty converge.